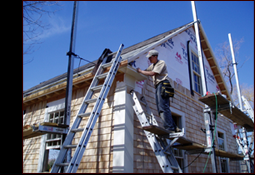 When you contact us, I know you want a building project that's unique to your needs and style—not some cookie-cutter, standard, production-built project.
We don't specialize in the high-profit, one-size-fits-all approach. Most of our jobs are done on a "Cost Plus" plan: all construction costs plus an agreed-upon project-management fee based on the scope and size of the project (usually between 10 and 20%).
Most builders work on "Contract/Fixed Price," which is … well, here are some situations and comparisons of Cost Plus vs. Contract/Fixed Price for your information and entertainment:
CHOOSING YOUR BUILDER | PRICING & BUDGET | FIRM PRICING | ALLOWANCES | BETTER IDEAS | WORKING TOGETHER
OMISSIONS | OVER BUDGET | VALUE
---
Cost Plus with the Housewright Company


Compare a few builders' references, rates and project management (PM) fees and, after you've chosen one, get them involved in the design/build process early on with the architect. You've just got the builder's attention and you're on his schedule tout de suite!

vs.

Contract, Fixed Price

Expensive, complete prints are given to two or three competent builders who each have a 33 – 50% chance of getting the job. A little "truth bending" with each one to keep them interested (i.e. "we are leaning towards you") leads to one or two of them wasting 40(+/-) hours on pricing and get you a cold shoulder from two of them when you see them at the store. And you've just lost another 3-4 weeks waiting for that last estimate to come in.
---
Cost Plus with the Housewright Company


I fill out my worksheet from conceptual plans and use my experience to come up with a budget. You find out early on, with only minimal design costs, if the project is within your price range.

vs.

Contract, Fixed Price

Must have complete, expensive, all-inclusive plans for a project you may discover is far too rich for your blood and has to be scaled down, incurring even more design costs to get less.
---
Cost Plus with the Housewright Company


No such thing, but we still do a budget worksheet and monitor costs as we go.

vs.

Contract, Fixed Price

No such thing. Contract price on the basics. Allowances and extras for the unknown. And there will be extras.

"Oh, you want screens, downspouts, etc? They weren't on the prints..."

Exception: Builder adds on 20-30% to cover his butt on surprises whether it's needed or not.
---
Cost Plus with the Housewright Company


When the client can't decide up to a year in advance whether they're going to want tile or wood floor in the foyer, or granite or laminate counter in the kitchen, I enter a reasonable allowance for these items into the budget to get close to the final project cost. Then, either before the project begins or after the "mystery" phase of gutting and re-shaping the space is completed, they can decide to spend less, the budgeted amount, or more on the allowance items.

Click here for an example of allowances, etc.

vs.

Contract, Fixed Price

A builder may agree to a fixed price on a job even though you have not yet made some choices. The builder will factor these in as "allowances"—and they'll usually be on the low side to make the final numbers appealing. When the actual costs for the allowance items come in you, the homeowner, pay the difference (because almost always the actual cost exceeds the allowance) and you learn the hard way that there is no such thing as a fixed price.
---
Cost Plus with the Housewright Company


We inform you of a better design, plan or detail that was overlooked by the architect. This allows you to decide if it should be acted upon and we can happily execute the new upgrade.

vs.

Contract, Fixed Price

The same thought occurs to the builder, but he (or she) keeps it under his/her hat in an attempt to keep the project on schedule. The builder sticks to the contracted job so they can get on to the next one. You never got the option.
---
Cost Plus with the Housewright Company


With cost plus pricing, everyone is on the same team. Architect, builder, subs, and you, the homeowner, work together to get exactly what you want—within budget. Solving problems cooperatively.

vs.

Contract, Fixed Price

The contract method sometimes feels more adversarial with the builder, architect and you, the homeowner, often pointing fingers back and forth and referring to fine print or omissions of the contract.
---
(Example: You, the homeowner, decide to paint your own bathroom and strip the wallpaper)
Cost Plus with the Housewright Company


Labor cancelled, no problem! It won't appear on the bill.

vs.

Contract, Fixed Price

You are credited an insanely small amount—you don't know what the builder figured for the item, and they probably don't either.
---
Cost Plus with the Housewright Company


This is a very common problem in both methods and often occurs when surprises arise such as rot and structural issues, homeowners upgrading along the way and the builder optimistically setting the budget a little low. Tracking costs along the way can lead to adjustments in the plan leaving some things for later.

vs.

Contract, Fixed Price

This could go a few different ways. If you're lucky, the builder takes it on the chin, finishes your job and holds off on buying the kids new shoes.

Or…the builder keeps quiet through the problems, plugging away and hits you with a surprising, but justifiable, heap of extras at the end of the project when it's too late to make any cuts.

Or…worse yet… the builder admits to underbidding your project, demands payment, and threatens to not finish the job. You say you'll sue, and the builder says, "the line starts over there."
---
Cost Plus with the Housewright Company


At The Housewright Company we believe in an honest day's work for an honest day's pay. With some companies (not mine) you have to watch for very long coffee breaks, inefficient work and getting billed for hours not worked. At the Housewright Company you'll see progress every day, and if progress is not obvious, you can look at the Daily Reports to see where your money went: who, what, when, and where. I guarantee that you'll get what you pay for!

vs.

Contract, Fixed Price

The builder performs tasks in almost half the estimated time. What's up with this? Some quality has been compromised. (And let's not even get into quality of materials.) You know the builder made a killing on your job, but a deal is a deal—and you are obligated to pay.
While you're looking around, don't forget to check out some of our other great projects in the Gallery.
Click on any image below to view the gallery.